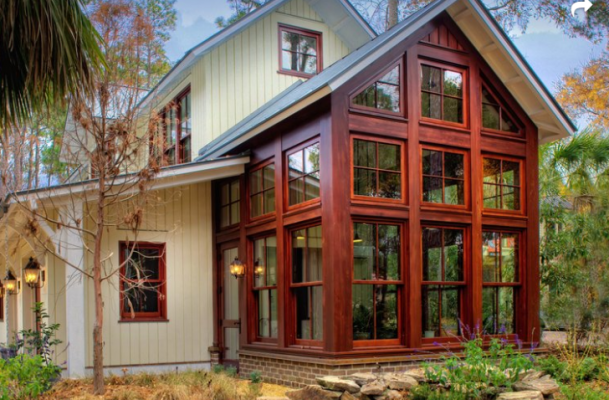 Source: The Island Packet, David Lauderdale
Jane Frederick of Lady's Island just stepped up to one of the largest bully pulpits in the world.
She was inaugurated Dec. 13 as the 2020 president of the 95,000-member American Institute of Architects.
"As I step into this role, I'm asking what will happen for us in this next year," she said as she became only the fifth female among 96 presidents to lead the AIA in 162 years.
"At this moment in the world's history, the answer couldn't be more clear, that 2020 must be the year architects assert our leadership and have a meaningful impact in climate action."
Influencing world history probably wasn't on the agenda when she and her husband, Michael, formed their Frederick + Frederick firm in 1989, offering custom residential architecture.
But it was Beaufort's tangible sense of history, and its beauty, that captured the Fredericks when they visited for the first time with their two little girls while vacationing long ago on Edisto Island.
Last week, Frederick sat in their office on Lady's Island and calmly stated how she and the AIA intend to influence history: get buildings to quit emitting greenhouse gases.
"What a lot of people don't know is that 40 percent of carbon emissions are from buildings," Frederick said. "Everybody focuses on cars, but buildings are a big deal."
AIA studies show that building operations, mostly for lighting and cooling, account for more than 75 percent of all electric use. More than 40 percent of all energy consumed in the United States is dedicated to heating, cooling and powering buildings, an AIA issue paper says.
"It's a hidden use of energy," Federick said. "You see emissions in cars with smoke coming out of the tailpipe, but in buildings you just don't see it. You have inefficient light fixtures, single-pane glass."
Architects can help change that. But it won't be easy, even in-house.
THE 2030 CHALLENGE
AIA has been concerned with energy use since the 1970s.
But in 2006, it threw down the "2030 Challenge" within the profession, setting the goal that all new buildings and major renovations be designed to meet an energy-consumption standard of 70% below the regional or national average for that building type.
The goal rises to 80% in 2020 and 90 percent in 2025. By 2030, the goal for each firm that accepts the challenge is that its portfolio of designs be carbon-neutral — using no fossil fuel greenhouse gas-emitting energy to operate.
Frederick and her fellow AIA board members want 2020 to be a year of dramatic action toward that goal.
"Right now, there are about 12,000 architectural firms in the country, and only 600 have signed up for this 2030 Challenge, and only about 250 of those firms are reporting their results," Frederick said. "So we have a lot of room for improvement there."
She will consider her year as president a success if the number of firms participating doubles.
"And I think we'll be successful if we change the conversation so that clients are beginning to say, 'We need to be paying attention to how much carbon is being used in my building,' " she said.
A major advertising campaign in 2020 should help.
So should the AIA's research arm. Data can show how upfront costs for more energy-efficient homes and offices can be recouped in a relatively short period of time in lower operations costs.
Frederick said her firm has hit the 61% level in the 2030 Challenge.
"So we are getting close, but we're not there," she said. "In our climate, you have to have solar panels to get there. You can't do it passively here" with building materials or building orientation.
She finds that local clients who would be building a generator into their house plans anyway will now put solar panels on their roof and a Tesla battery in the garage and generate their own energy.
"The tax incentives in South Carolina are good," she said. "We have net metering so power companies will buy energy back from you if you're not using it."
It will take all of that, and more, to meet the 2030 Challenge.
LOWCOUNTRY TREND
Architects are used to changing the world.
"I think all architects generally go into the profession to make a difference," Frederick said. "To make communities better."
For her, making a difference has included Girl Scout leadership, service on numerous planning and aesthetic-review commissions, many roles with AIA at the state and regional level, and even an unsuccessful run for Congress in 1998.
"We want to have an impact not just on the building as a set piece, but the building in the environment, the building in a city, how buildings interact with the streetscape," Frederick said. "It's how you use public places outside of the building. It's working closely with landscape architects on that, but still it's a matter of how you see the entire community."
As a child, she saw the world as the daughter of an aerospace engineer and an interior decorator in the small town of Tullahoma, Tennessee.
As an adult, she sees it through glass walls in a home on the Beaufort River that partly includes a repurposed Quonset hut.
She and Michael met at Auburn University. He credits her with helping him survive type 1 diabetes that was supposed to kill him before he was 40.
Their office with two other architects sits in the front yard, close to Meridian Road on Lady's Island. That's where they produce award-winning designs that have graced Southern Living and other publications, with a dog milling about, a cat at the window, and the phone ringing.
Frederick is confident in Beaufort County's market for fine custom homes.
She's seen a slight trend toward more contemporary architecture, but people still mostly like the Lowcountry look.
Another trend may help Frederick in her new bully pulpit.
"People are more interested in building sustainable houses," she said. "Both in the materials they put in them and their energy use. People are moving in that direction."