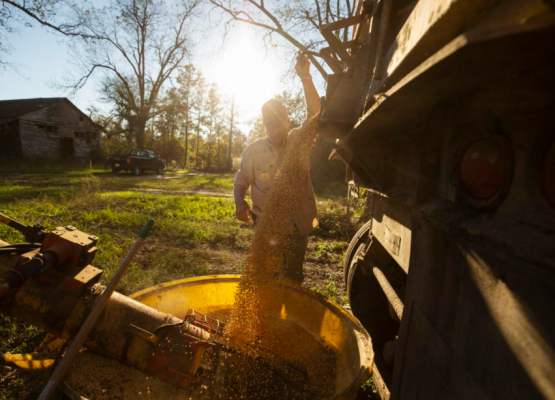 Source: Post & Courier, Shamira McCray
People depend on farmers for food and clothing. But low prices, floods and drought that destroy crops and other pressures have left the American farmer living with stress and depression. Industry leaders in South Carolina are now trying to help.
The S.C. Farm Bureau has launched the SC AgriWellness program to provide free mental health services to farmers and their families.
The idea came from a fifth-generation farmer in Chester. Produce farmer J.E.B. Wilson said he was inspired to complete a project focused on mental health because so many farmers are lost to suicide.
"And a big part of that reason is we're subject to market swings and what we get paid," Wilson said. "Some years, you can do pretty well farming, and some years when the commodity prices really take a dive, it's very stressful. You just can't make any money doing it."
One big pressure is some farms have been in families for generations.
"So, if grandma and granddaddy didn't lose the farm, it's really stressful when you think, 'Oh my goodness. I'm going to lose the farm,'" Wilson said. "So there's just a lot of pressure on you from generation to generation to keep doing what you know the folks who came before you were able to keep doing."
Wilson said many South Carolina farmers live in rural parts of the state and may not have good access to mental health care. He talked with folks at Clemson and the S.C. Farm Bureau about the need, and those conversations led to the creation of the SC AgriWellness program.
Farm families do not have to leave their homes to take advantage of the services. They can simply call a hotline, 1-800-968-8143, and mention the SC AgriWellness program to talk confidentially with trained professionals with First Sun EAP.
Jessica Cabrera, director of member engagement and leadership development for the S.C. Farm Bureau, said people can't afford for farmers to give up. She said the organization wants to prevent mental health crises from leading to suicide and to keep people from living in darkness and depression.
"And this was a topic that everyone understood to be extremely important in light of recent, honestly, just constant challenges and struggles that the farming community have been facing for a number of years now," Cabrera said.
S.C. Farm Bureau officials noticed depression was common among members. Cabrera said the organization recently held a workshop with farmers and speakers about farm stress and mental health awareness.
"And farmers started to come forward, being very forthcoming about their struggles and about how bad it was for them right now," Cabrera said. "And this is a group that is traditionally very private and would not normally share those kinds of feelings publicly."
For Farm Bureau leaders to see that happening in a group setting solidified that mental health services was something the organization needed to invest more in, Cabrera said.
Marion Rizer of Colleton County is just one farmer who understands the need for such services. He said he has been farming all his life. He grows corn, soybeans, peanuts and other foods on an 800-acre farm in Lodge.
He said when it comes to stress and depression, farmers like him aren't able to pinpoint just one thing as the cause. Several factors play a role.
"Dry weather, when the crops are in May, June, July, that is extremely stressful because you've already put all that investment out there," Rizer said. "And you're at the vagaries of the weather."
He agrees with Wilson that the price for commodities can also be a stressor.
"And again, that's something that you can't control," Rizer said. "Prices have been very low for the last six years or so and that has probably contributed more to people's depression really, or as much, anyhow."
armers don't get to set their prices. They get whatever the market offers. And the prices of equipment used to tend to the crops have "gone out of sight."
Rizer admitted he may not have the same stress levels as younger farmers because he is old enough to quit the business at any time.
"I try to control the things I can control, and I don't worry about the rest of it," Rizer said.
But that is extremely difficult, he said.
Rizer said he hopes farmers take advantage of programs like SC AgriWellness, but he knows many of them like to keep things inside. That only allows the stress to continue to build, he said.
"You got to look at it like this. You know the sun is going to come up tomorrow," Rizer said. "The question is whether you want to get up with it and see it."