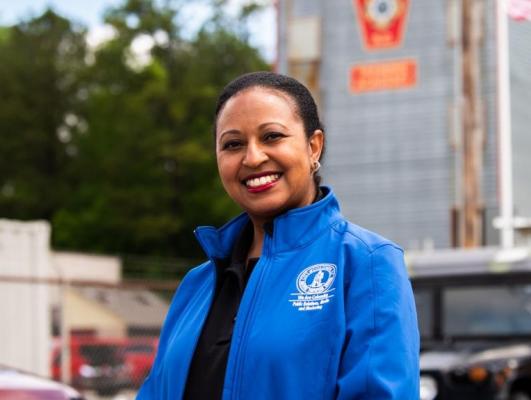 Source: Free Times, Chris Trainor
It's a cool but bright spring morning, and activity is swirling at the Columbia Fire Department's training center just off Bluff Road in southeast Columbia.
About three dozen new firefighters are on the scene, decked out in their gear, hustling through various drills and practicing rescue scenarios in the department's towering training buildings, all while veteran supervisors keep a close watch.
It's literally an exercise in bravado, with eager young recruits honing the methods and tactics they'll need to go charging into emergencies and help Capital City residents in moments of crisis.
But when the lady in the mask shows up, the hard-charging new firefighters quickly fall in line and give her their rapt attention.
The lady is Columbia City Manager Teresa Wilson, and the recruits gather in perfect formation to hear what she has to say. The city government's top executive since 2013, Wilson wears a blue City of Columbia jacket in addition to the protective covering over her mouth and nose, a necessary accessory during the COVID-19 pandemic.
Wilson is calm and measured. She thanks the new recruits for their service, and assures them they will have the city's support as they embark on firefighting careers, finding the perfect balance between firm and lighthearted. The protective mask partly disguises her typically warm countenance, but it can't hide her expressive eyes.
While they might not realize it, there are lessons the young firefighters could take from her career path. Wilson's time in her position has been defined by crisis.
It's a path that began, in her first year as manager in 2013, with a contentious, and ultimately unsuccessful, voter referendum that would have switched the city's form of government and given the mayor power to run the day-to-day operations of the city. It continued as Wilson pushed her own plans for a national search for a new police chief the following year, hoping to stop the extreme revolving door of leadership in that department.
In 2015, a completely different crisis literally fell from the sky, as a 1,000-year flood smashed Columbia, claiming lives, destroying homes and businesses, blowing a yawning hole in the side of the Columbia Canal — the city's main water source — and damn near bringing the Capital City to its knees.
And now Columbia finds itself in the most unique crisis of all, as the sweeping coronavirus has, in roughly a month, completely changed daily life in the city. Schools are closed, the city is under a nightly curfew, businesses are shuttered — some temporarily, others forever — and local government is scrambling to keep services running and figure out what is likely to be a dire budget situation in the coming year.
But none of that is reflected in Wilson's demeanor on this recent morning. As he watches her address, longtime Columbia Fire Chief Aubrey Jenkins, a 41-year veteran of the department, quietly evokes the biblical book of Esther when describing Wilson's leadership.
"I think she's the right person for the job right now," Jenkins tells Free Times. "I think she has been put in place for such a time as this."
Read complete article here.