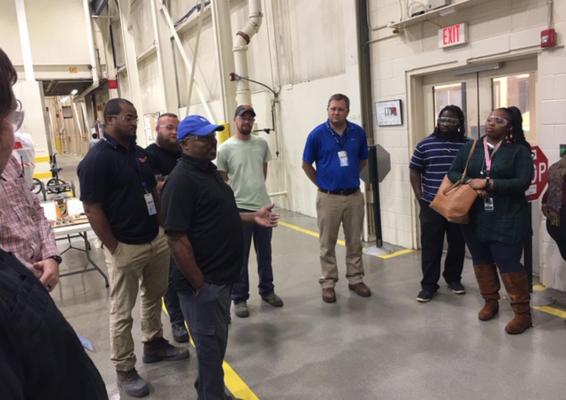 Source: SC Now; Lauren Owens
FLORENCE, S.C. — Several Florence One Schools professional school counselors learned about technical education during the first Helping Florence Work program.
Helping Florence Work is a program created by Mike Reichenbach to inform professional school counselors of opportunities available to students outside of a four-year degree.
During the program, 13 new counselors in Florence One toured Florence-Darlington Technical College. Counselors toured several departments, among them welding, HVAC, automotive, and machine tool and industrial maintenance.
"You can read all you want about welding and automotive and HVAC and industrial maintenance in a catalog or pamphlet, but for them to see the students working hands-on with some of the cool technology that we have on campus, it really makes a difference so they can picture they're students that they counsel in the classroom," said Lauren Dorton, executive director of the Educational Foundation.
Dorton said the college is always working with school districts in Florence to educate them on the job opportunities in the area and low cost of attendance at the college.
"There is really a benefit from the school counselors to see that, and it helps show people what we're offering," Dorton said. "We are always pushing for people to see us as a high-quality educational experience."
For the second half of the day, counselors toured GE Healthcare, Honda of South Carolina and Otis Elevators.
At Honda of South Carolina, counselors learned about different career options and the technology used at the company, according to Michele Pridgen, the community and government relations manager at Honda of South Carolina.
"I definitely think it will help connect some dots," Pridgen said. "I think it is a wonderful program, and I'm looking forward to continuing to work with Mike and the others that are involved because I think there's a great misunderstanding between the manufacturing world today and the former image."
Pridgen said the Helping Florence Work program is a win-win for everyone involved.
"It's important because not every child will have the ability to go off college be it a two-year or four-year degree," Pridgen said. "We need to make sure they understand they can build viable career within the industry that's right here within their areas."
Deanne Frye, who works at West Florence, was one of the 13 counselors who took part in Helping Florence Work.
Frye said she has grown up in Hartsville and toured some plants, like Sonoco, but never the three she saw during the program.
"It was an eye-opening experience because we have so many opportunities as far as manufacturing for our kids and in our area," Frye said.
Frye said she would like to see field trips to allow students to learn more about the manufacturing field first hand.
"I feel like we really need to expose the kids to it early on so they can make a better decision about their future," Frye said.
Reichenbach said he created the initiative as his South Carolina Liberty Fellowship project, which is a fellowship focused on bettering some portion of the individual's community or state.
"I would say it was a tremendous success," Reichenbach said. "By all accounts the different stakeholders, the 13 new professional school counselors, the staff of Florence-Darlington Tech and the representatives from all three companies thought it was a very, very good day and time well spent."
In the future, Reichenbach said, he is planning to extend the project to other school districts across the Pee Dee.