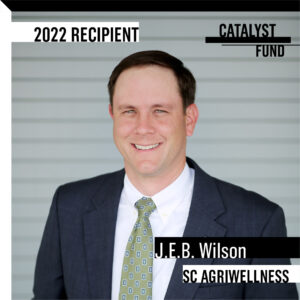 Fifth-generation farmer J.E.B. Wilson ('20) has been named a 2022 McNulty Foundation Catalyst Fund recipient for his Liberty Fellowship impact project, SC AgriWellness. Wilson partnered with stakeholders to create the program, which promotes awareness of mental health issues in farming communities and provides access to treatment and support.
"Liberty Fellowship challenges you to think about something you can do to improve the lives of your fellow South Carolinians. I knew farmers in South Carolina who had committed suicide, and I just started thinking about what I could have done to reach out. Farmers are pretty proud and independent, so we sometimes have difficulty asking for help," said Wilson.
The mental health crisis facing American farmers has been building for years as the industry consolidated.According to a survey conducted by American Farm Bureau in 2019, 87% of farmers cited fear of losing their farm as a significant stressor on mental health, and 46% of farmers indicated it is difficult to access a therapist or counselor in their local community.
"SC AgriWellness is a lifeline for farmers, so when they get in a really bad situation, I hope they will take the time to call the hotline and realize there is someone there to lend a hand in their time of need," said Wilson.
The McNulty Prize Catalyst Fund recognizes ventures from Fellows in the Aspen Global Leadership Network at critical junctures on their path to creating meaningful impact. Catalyst Fund recipients exhibit high potential to deepen or widen their impact, with significant early momentum and critical need. This year, $100,000 was awarded to five recipients hailing from Nigeria, India, and across the United States.
"The problems we face as an interconnected globe are overwhelming and complex, but the truth is that each person and community experiences them locally. Each of these individuals are taking challenges into their own hands, bringing local solutions to their communities and building resiliency for the long-term," said Anne Welsh McNulty, President of the McNulty Foundation and Trustee of the Aspen Institute.
Wilson, who is a member of Liberty Fellowship's Class of 2020, was eligible for the Catalyst Fund through the Fellowship's affiliation with The Aspen Institute. Once Liberty Fellows complete the initial 18-month Liberty Fellowship seminar experience and impact project, they become members of the Aspen Global Leadership Network.
"SC AgriWellness is a powerful example of how individual leadership can bring stakeholders together to address an issue in their community," said Ann Marie Stieritz, president and CEO of Liberty Fellowship. "Because J.E.B. was willing to confront the status quo, farm families now have access to support that can continue to have an impact for generations to come."
Resources