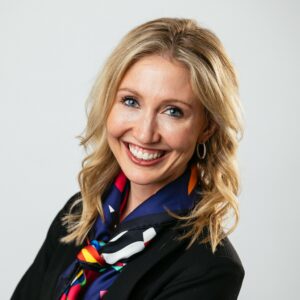 Karee White, a higher education executive and native of South Carolina, has been named Liberty Fellowship's first Chief Advancement Officer (CAO). In her new role, White leads the comprehensive philanthropy strategy for the Fellowship and ensures its long-term financial sustainability.
"Karee shares our Fellows' passion for South Carolina and their dedication to make South Carolina better for future generations," said Ann Marie Stieritz, president and CEO of Liberty Fellowship. "We are so fortunate to have her experience and entrepreneurial spirit to support the dynamic growth of the Fellowship."
White joined the Fellowship with more than a decade of progressive experience in development for higher education institutions in South Carolina including Furman University, Clemson University and The Citadel. During her time in higher education, White successfully managed multi-million-dollar fundraising goals and developed a record of securing major gifts. She also led innovative initiatives to increase stakeholder engagement and donor retention, with year-over-year growth in financial support.
"Liberty Fellowship is something that is completely unique to South Carolina. This vibrant community of leaders has made a lifetime commitment to creating a better future for all of us," said White. "I am honored to help support and amplify the impact of the Fellows and to ensure the Fellowship experience is available for the generations of leaders to come."
White is a first-generation college student who was first inspired by the power and impact of philanthropy after receiving a scholarship to attend Presbyterian College for her undergraduate degree. She went on to earn master's degrees in business administration and education from Clemson University.
Currently residing in Greenville, White is a native of Seneca. She serves on the Board of Directors at the Hispanic Alliance and has served on their External Affairs Committee since 2016. She also serves on the Young Adult Council Board at Christ Church Episcopal.
About Liberty Fellowship
Liberty Fellowship is the only state-based Fellowship program of its kind in the United States. The Fellowship activates individual leaders through a deeper understanding of a just, free and equitable society; serves as a convener for bringing together diverse perspectives to advance civil discourse; and provides infrastructure for taking action. There are more than 300 Liberty Fellows working collectively across South Carolina.