A celebration of values-based leadership on Earth Day
The first observance of Earth Day on April 22, 1970 was the result of bi-partisan leadership of Senator Gaylord Nelson and Congressman Pete McCloskey, who found common ground on their concern for the deteriorating environment. The first Earth Day helped align Republicans and Democrats, rich and poor, urban dwellers and farmers, business and labor leaders on common ground. By the end of 1970, Earth Day had led to the creation of the United States Environmental Protection Agency and the passage of other first-of-their-kind environmental laws.
In the spirit of values-based leadership and finding common ground across differences this Earth Day, we spoke with a mosaic of Fellows whose daily work and leadership is grounded in sustainability and community.
Executive Director, South Carolina Environmental Law Project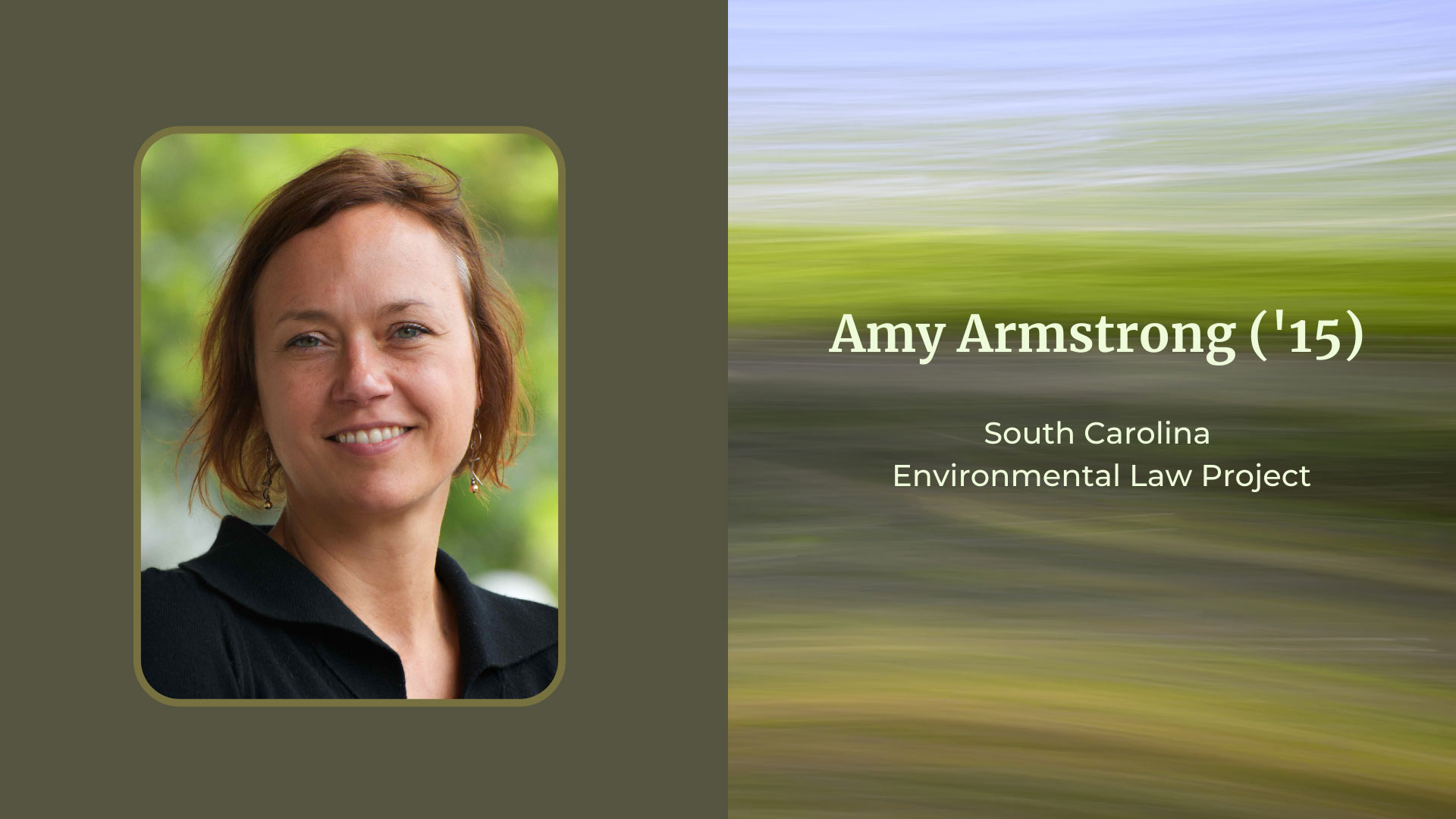 HOW DOES YOUR ORGANIZATION WORK TO SUSTAIN THE ENVIRONMENT AND COMMUNITY?
Our mission is to protect the natural environment of South Carolina by providing legal services and advice to environmental organizations and concerned citizens and by improving the state's system of environmental regulation. We take on issues and cases aimed at defending against harm and degradation to our natural resources; creating lasting legal precedents; and protecting and maintaining a health ecosystem, upon which our own health and the health of our communities relies.
For example, we have been able to stop two mega-dumps from locating in poor, rural South Carolina communities – one in Laurens County and one in Marlboro County. We used legal action to drive a settlement that secured protection for the 40 acres around the Angel Oak, working with several partners. We have secured citizens' rights to participate in the environmental decision-making process, ensuring that communities have a voice and legal muscle to protect themselves from pollution. We took legal action under the Endangered Species Act to have the plastic walls along the Isle of Palms and Harbor Island removed to protect sea turtle nesting, as well as public beach access.  And, to-date, we have successfully defended against a proposed 50-house development on the dynamic and shifting barrier island spit called Captain Sams on Kiawah Island.
WHY ARE SUSTAINABILITY AND COMMUNITY VALUES IMPORTANT TO YOU?
I think sustainability is a bit of a buzz word with a major disconnect in how we think and live. At base, we must acknowledge and that we are interconnected with and reliant on Earth's ecosystems for our own health and survival.  And we must act to reverse the course of destructive and harmful uses that degrade the ecosystem upon which we rely, including water and air quality, forests and wetland systems, and wildlife and their habitats. And so I believe that to be sustainable we must protect natural systems in order to maintain a livable planet for us, and especially for future generations.  Quite literally, human life cannot exist without other plant and animal species, clean and available drinking water, clean air, and a livable planet.  We must see ourselves as part of the ecosystem and interdependent on those natural systems to provide the food that we eat, the water we drink, and the air we breathe. And we must act on that knowledge to uplift core community values.
WHAT ADVICE DO YOU HAVE FOR FELLOWS WHO WANT TO DO MORE TO SUPPORT WORK IN THIS SPACE?
Liberty Fellows have a unique role because of the relationships we have, the ability to speak frankly and honestly with each other, and the ability to influence decision-makers. We need to advocate for decisions now that will have a lasting effect on future generations. We need to be having conversations about how South Carolina can and must act to protect the health of our communities and the natural systems upon which they rely – what that means and what that looks like – because the interests that are profiting from degradation of natural resources have far more money and power than the trees and the birds and the bees.
For more information on SCELP, visit their website.
President and CEO, Lowcountry Land Trust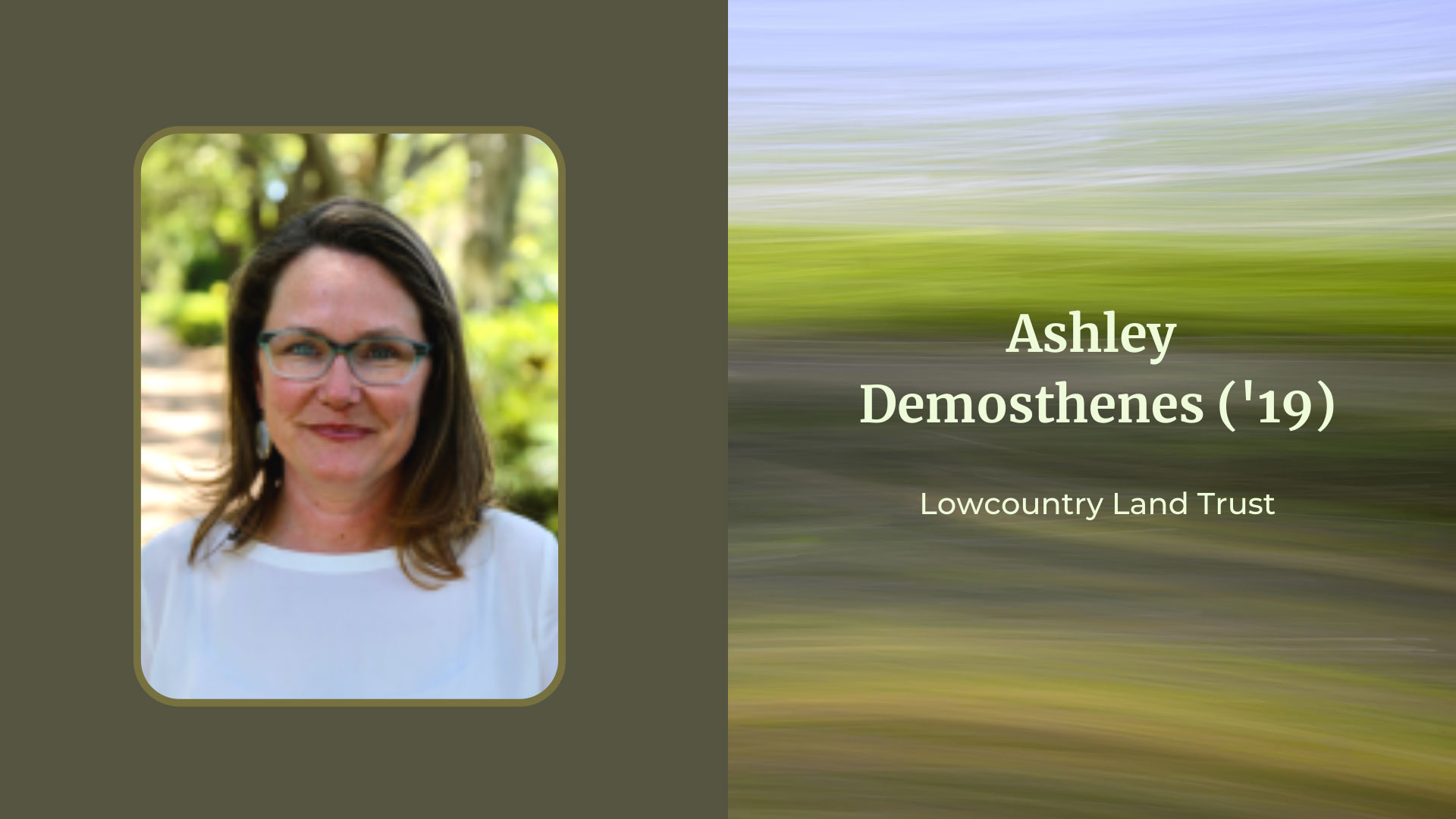 HOW DOES YOUR ORGANIZATION WORK TO SUSTAIN THE ENVIRONMENT AND COMMUNITY?
We are a local land conservation organization and a 501(c)3 nonprofit organization focused on protecting ecologically, agriculturally, and historically significant Lowcountry lands – and the way of life they make possible. We have been in existence for 35 years and have conserved nearly 150,000 acres across 17 counties.
WHY ARE SUSTAINABILITY AND COMMUNITY VALUES IMPORTANT TO YOU?
I think it's always been something that I've harbored, even as a kid. I grew up in Charleston and had the exposure to the outdoors and felt the importance of wilderness and nature. It was just a strong connection, and I felt from an early age that I had the moral responsibility to protect the things that can't protect themselves.
WHAT DO YOU HOPE FOR THE FUTURE?
The fundamental issue we face is climate change and sea level rise. We feel it everywhere, but especially in Charleston, it's a weekly occurrence. There are streets that are not passable in a regular high tide. And these are streets that used to be passable when I was a kid.
I'm really proud of the work that SC has done in the conservation and sustainability space, but there is an opportunity for South Carolina to really become a leader in how to deal with the communities most affected by climate change. We need to look at things with our eyes wide open and a comprehensive strategy on how to adapt as the water moves in.
WHAT ARE THE CREATIVE SOLUTIONS? 
The voices that support the environment and support natural resources must have a seat at the table when folks are making decisions about any kind of development. Frankly, to me, it makes it a much stronger outcome to find a win-win for everybody. When people aren't collaborating and talking to one another, that's when things break down. Without collaboration and a high degree of coordination amongst the voices, you have outcomes that are out-of-balance. A lot of people are moving here, but they have to go somewhere. Imperative is that we have to decide how to accommodate them without destroying what brought them here.
WHAT ADVICE DO YOU HAVE FOR FELLOWS WHO WANT TO DO MORE TO SUPPORT WORK IN THIS SPACE?
First thing, look up your Fellow Fellows who are doing it, and make contact. Talk to those of us who are doing it on a daily basis. There are sustainability efforts that can be done in every company in every space. There are a lot of big companies like Volvo that have major sustainability efforts going on. Even at the small business level, things can be done.
As an individual, you can volunteer for your local land trust. There are lots of grassroots organizations that are there as a resource. It's just a matter of asking yourself how I can personally engage, engage my company, and engage those around me.
For more information on the Lowcountry Land Trust, visit their website.
President, Loci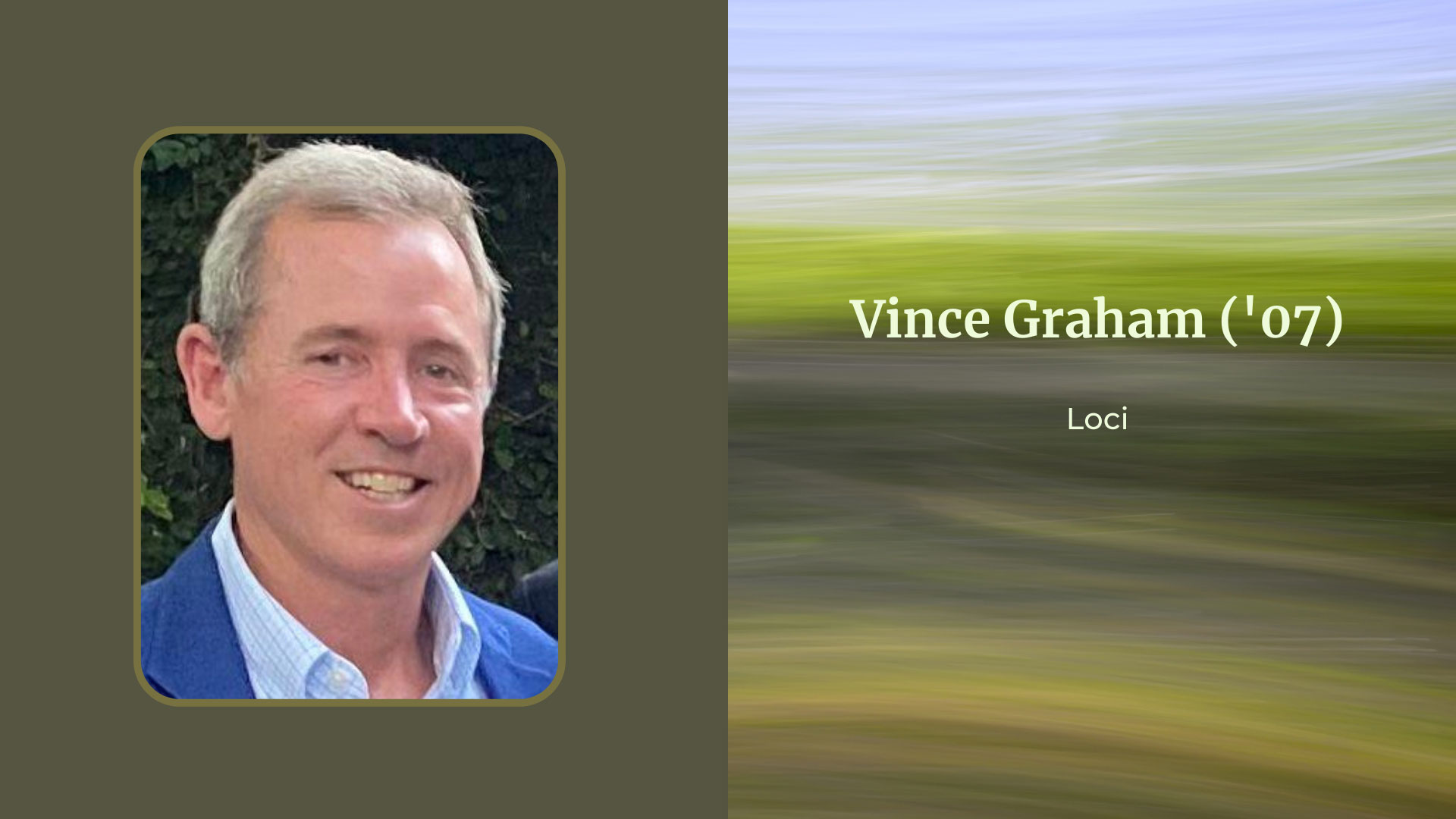 HOW DO YOU AND YOUR ORGANIZATION WORK TO SUSTAIN THE ENVIRONMENT AND COMMUNITY?
Our focus is on the built environment and creating communities where you don't need a car to get around, communities that enable people to come in contact with their fellow human beings so that those community bonds can develop. We create places conducive to the formation of community.
To do that, we incorporate lessons learned from time-tested human settlement patterns. I study historical places that people love that have endured for 100s or 1000s of years and combine that with building new places and renovating old places. We have created those kinds of communities in Charleston, Beaufort, Augusta, Port Royal, and we have also consulted on a project in West Columbia.
WHY ARE SUSTAINABILITY AND COMMUNITY CORE VALUES FOR YOU PERSONALLY AS A LEADER?
I grew up in the suburbs of Atlanta, then went to the University of Virginia. I then moved back to the suburbs of Atlanta to work for a commercial real estate brokerage. I was driving everywhere and just felt dissatisfied with the built environment.
I then took a job as a project manager in Beaufort and bought my first house downtown, where I could walk everywhere. At that point, it just kind of clicked that there was something that was different about Beaufort than a place like the suburbs that we know today. So, I started studying urban design and history of built environment.
My bosses at the time were going to build sprawling homes over a historic location. I realized if what you offer is privacy and gates, then every house built takes away from what you are offering. On the other hand, if what you offer is a sense of inclusivity, then every house adds to that, and the place gets better and better over time. That was an epiphany.
I felt compelled at that time to leave my job, and that's when I built my first community, Newpoint on Lady's Island.
WHAT CONCERNS YOU THE MOST IN SOUTH CAROLINA RIGHT NOW, AND WHAT DO YOU HOPE FOR THE FUTURE?
Our policy in South Carolina, particularly our land use policy, and our transportation policy are counterproductive, but they have been institutionalized. The longer we continue to advance those policies, the worse things are going to get.
Specifically, the conventional Euclidean zoning and the highway and transportation funding. It's a real problem. Land use outlaws the historical patterns of settlement and then transportation policy facilitates sprawl.
What most people don't realize is that the biggest developer by far is government. It is what funds these highways out into our countryside. My definition of developer includes the person who goes out in the front yard and plants grass. You are effectively developing the earth, and it goes all the way up to big government projects. We must define development – what does that mean? And then face these kinds of policies, understand the downside of them and how they can be changed to become more sustainable.
To learn more about Loci, visit their website.
Vice President – Technical Services & Power Generation, Dominion Energy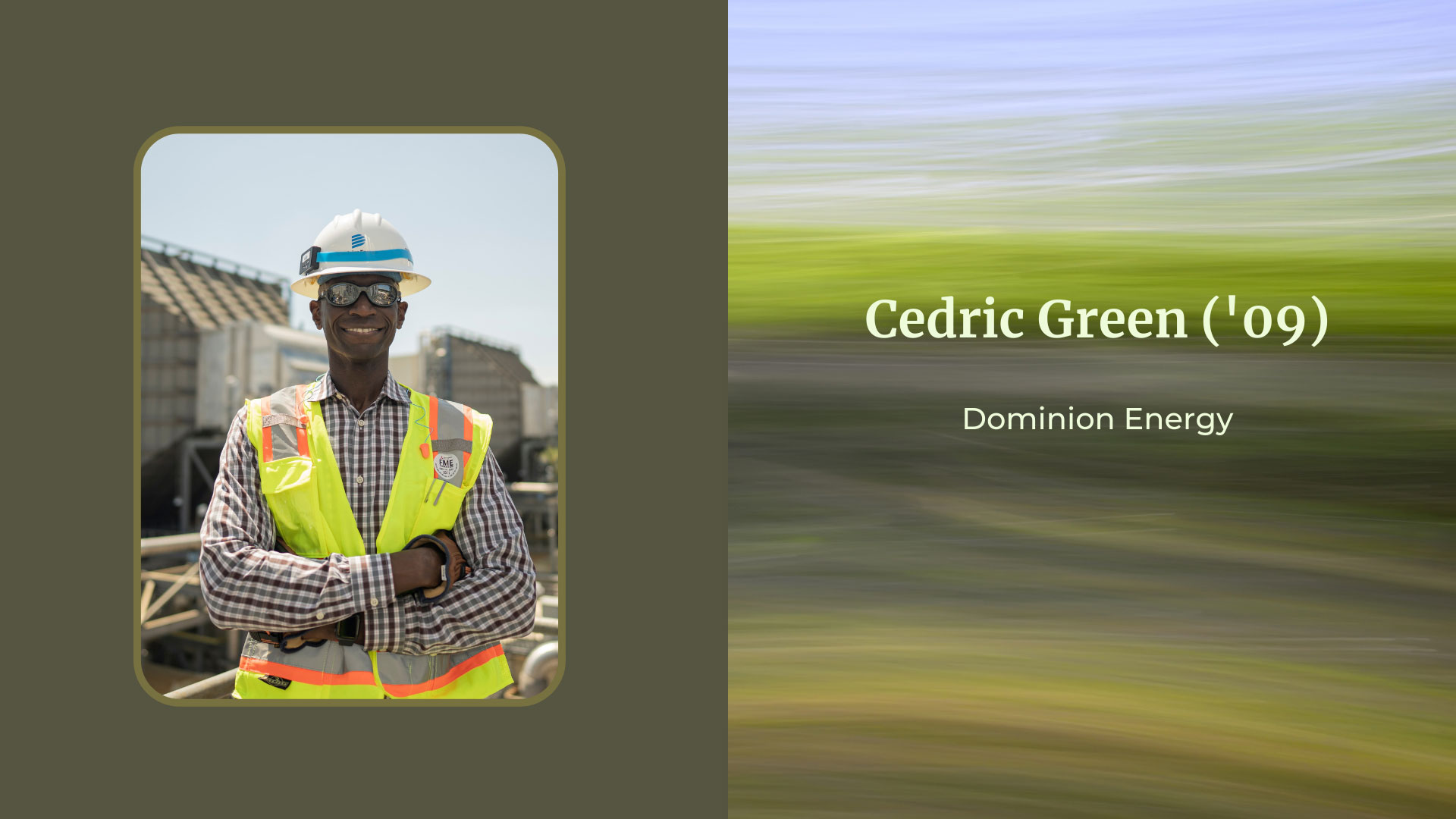 HOW DO YOU AND YOUR ORGANIZATION WORK TO SUSTAIN THE ENVIRONMENT AND COMMUNITY?  
For the last 25+ years that I've been working at Dominion Energy, sustainability has been a focus of my work. We have taken steps along the way to improve, for example, air quality. In my previous role in gas transmission, we continued to look for ways to reduce methane emissions. That's instrumental, and we did that with leak surveys and upgrading infrastructure so that we are not emitting from our pipelines.
We are committed to net zero methane and carbon emissions by 2050. We are also looking at battery storage, bringing on more solar energy through purchase-power agreements and new builds. We are investing in offshore wind as well.
WHAT MOST CONCERNS YOU? 
As it relates to renewable energy, we have to also keep in mind the reliability of our electric grid. What recently happened with Texas is a great example of that. So, the challenge is having enough diversity in power generation that you are not totally dependent on one source.
I believe that nuclear is an important piece of how we move forward. With the non-emitting generation assets that we have, from a grid stability standpoint, we have rotating mass generators that are generating from our nuclear plants to make sure we have stability on our grid.
I also think that generation from natural gas should be considered as well. When the sun comes back out and we get generation from solar, your gas turbines can adjust unit output. Gas units can easily reduce load and likewise ramp up with fluctuations in weather.
WHAT DO YOU HOPE FOR THE FUTURE? 
There is a lot of focus on utilities to reduce emissions, and we are doing that. I think it's equally important that the other sectors, like transportation, work toward that goal. Also, the less demand we have on the consumer side, the less energy we have to generate to meet the need. It all goes hand-in-hand.
I think the Virginia Clean Economy Act and the ongoing implementation of that is a great example of how stakeholders can come together around common goals and gives hope for the future. It is well thought out, checks a lot of boxes on the grid sustainability piece, and it allows us to have open lines of communication. We are creating jobs for our colleagues affected by the phasing out of coal, all while having a cleaner environment. It's a win-win.
For more information about Dominion Energy, visit their website.
Chief Administrative Officer, Michelin North America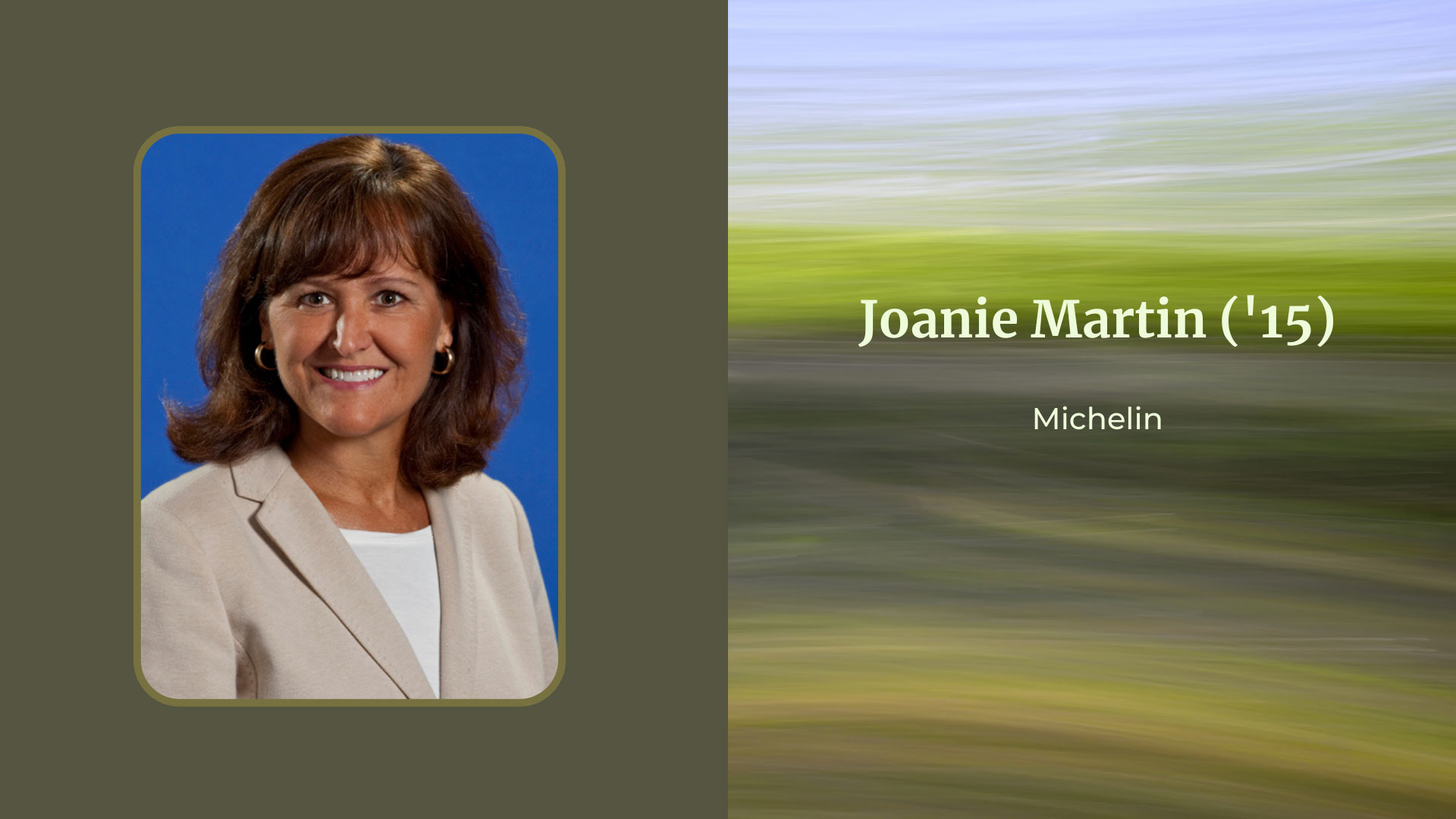 HOW DOES YOUR ORGANIZATION WORK TO SUSTAIN THE ENVIRONMENT AND COMMUNITY?
Our commitment starts with our core business: tires. We are the leading producer of low rolling resistance tires which produce less friction and therefore lessen the amount of gas used. Our tires also last longer and are more effective over their useful life than the average competitor's tires.  We are also producing more and more viable all-season tires, so you don't have to use more tires by switching between summer and winter.
Second, we have committed to using renewable materials in our tires as much as possible, with the long-term goal of making our tires 100% sustainable by 2050. The most known ingredient in tires is rubber, but there are also chemical and textile components. We have developed and are testing a tire using 40% sustainable materials in motorsports and plan to bring that over to other sectors.
Third, in our manufacturing plants, we have committed to be carbon neutral by 2050. There are a lot of initiatives that go into that. For example, we have made a commitment to less energy transporting our products for sale, so that means making our products closer to where we sell them. This initiative has a huge economic impact in South Carolina because of the amount of manufacturing we do here.
WHY IS SUSTAINABILITY A CORE VALUE FOR YOU PERSONALLY? 
After living in France for 18 months and working for a company that is very intentional about sustainability, it's been impactful to me to think about the journey we are still on in the U.S. in order to understand what is happening with planet and climate change. Also, as a mom to a thirteen-year-old, I think about the future and how many things are changing that will impact his life. To me, that's why it's so important to build awareness and to commit to change as individuals.
It's also important that we continue to pressure government and corporations to address climate change. It's something that's kept me at Michelin because I'm able to impact my community through my work, and I am encouraged to do that.
WHAT SUCCESS(ES) ARE YOU MOST PROUD OF REGARDING YOUR IMPACT IN SOUTH CAROLINA? 
Although I'm from Ohio originally, I love my adopted home here in South Carolina. So, I am really proud of the partnership we have built with Unity Park in Greenville. Michelin was the first significant, corporate gift to the project.
I knew how impactful this would be, especially because Michelin's contribution is being used for the protection of green space. I also appreciate the goals that the City of Greenville have established for the park as they relate to community. Connecting with historic communities and incorporating affordable housing is extremely important in rapidly developing regions like ours.
WHAT DO YOU HOPE FOR THE FUTURE IN SOUTH CAROLINA? 
My background is in finance and accounting. I understand that a lot of the decisions we all need to make short-term about the environment seem negative in a financial sense. But the long-term impacts cannot be over-estimated. We are going to have to make some bold decisions and move forward to decrease our reliance on fossil fuels.
I believe that the next generation is understanding this in a significant way and pushing us forward.  We have come so far in South Carolina but we still have hard work to do.  I look forward to continuing to partner with my fellow Fellows on the next steps in this journey!
Architect and President, Boudreaux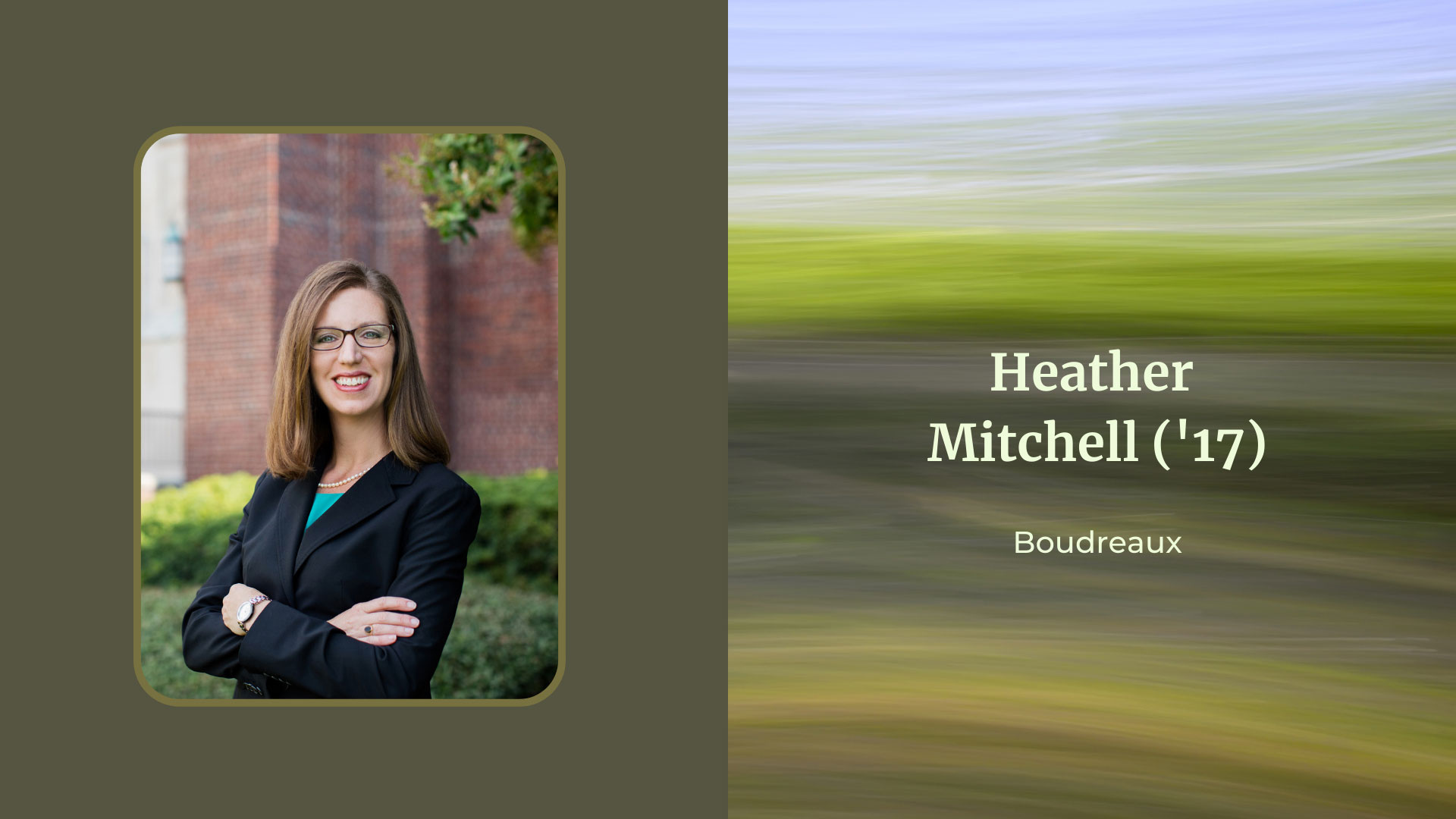 HOW DO YOU AND YOUR ORGANIZATION WORK TO SUSTAIN THE ENVIRONMENT AND COMMUNITY?
A lot of our work at Boudreaux starts with education, helping owners and clients understand options and the impact design can have on operations of the building. We talk with them throughout the design process on how to lower energy use, choose products that come from recycled content, and sustainable forestry sourced locally so not a lot of transportation costs.
A lot of that happens when our clients choose to certify their buildings, either LEED or Green Globes. We help administer that process for the owners and help guide the contractor and engineer. The certification process builds accountability and helps reach the goal.
WHAT SUCCESS(ES) ARE YOU MOST PROUD OF WITH REGARD TO YOUR IMPACT?
One of the things we are most proud of at Boudreaux is when our sustainability is married with historic preservation. A couple of projects were adaptive re-uses of historic buildings. Just the nature of re-using a building instead of tearing it down and building new is fundamentally a sustainability practice. It also contributes to the character and culture of a community.
As a Fellow, I am proud of my project, the Riley Mayor's Design Fellowship. It's an effort to help educate and support mayors who often become de-facto planners of their towns and cities, but often do not have a background in sustainable design and the built environment. The program brings a small cohort of mayors together each year. They bring a potential project idea, and they are matched with a complete resource team from economic developers to engineers to architects, whatever they need based on their idea.
They participate in a two-and-a-half-day long design workshop in a confidential environment and are able to talk openly about their goals, which helps them go back and champion their projects in their communities.
WHAT MOST CONCERNS YOU IN SOUTH CAROLINA RIGHT NOW?
Right now, there is a state law that requires agencies achieve sustainability certification on buildings. This law has brought about a lot of positive change even beyond state buildings because that change filters down, but there is conversation right now about allowing the law to sunset. It certainly could be a big step backwards if we lose that.
WHAT ADVICE DO YOU HAVE FOR FELLOWS WHO WANT TO DO MORE TO SUPPORT WORK IN THIS SPACE?
If you're in a larger organization, ask questions about what your sustainability efforts are. And absolutely if you're involved in a renovation project, ask that sustainability be front and center in your design and construction.
Seek out partnerships and opportunities. Various school districts have sustainable design strategies. Lots of faith-based communities have interest in this area and the ability to collaborate.
Also, as we move into a post-COVID world, there is an opportunity to re-visit organizational goals. I personally believe solar is a huge opportunity in our state.
For more information about Boudreaux, visit their website.