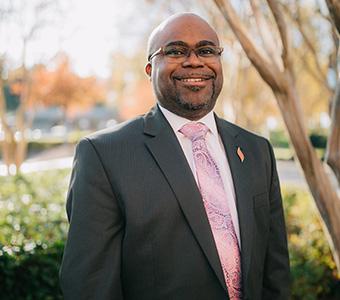 Source: Urban League of the Upstate
The Urban League of the Upstate welcomes Reverend Sean Dogan as the new interim President and CEO. Rev. Dogan is a Clemson graduate and attended Shaw School of Divinity in Raleigh, NC. He lives in Greenville with his wife, Satreva and daughter, Ramiah.
Rev. Dogan has served as Senior Pastor of Long Branch Baptist Church since 1997. He loves the people and community that he serves. Under his visionary leadership, the church has grown to more than 1,100 weekly attendees. He has recently led them in a multimillion dollar building project and a $50,000 environmental improvement project, which included a stream restoration, rock sitting area, and the planting of more than 60 trees. He has always pursued having a church that goes "beyond the walls."He has initiated many programs that have positively affected the local community. Some of these programs include:
Monthly feeding programs and partnership with Harvest Hope Food Bank to service 75 families weekly in the Greater Sullivan Community to help deal with the food insufficiency in Greenville County.
A monthly farmers' market for the community that has now developed into a mobile market in collaboration with Mills Village Farms.
Initiating scholarship programs and business grant opportunities that are made available to the members of Long Branch Baptist Church.
A job readiness program for the church and community, which includes interviewing techniques, resume writing, and personal support coaches.
Bringing the message of wellness to the community through the 100 Days of Faith, Fitness, and Fellowship.
Rev. Dogan is currently involved with the following organizations and sits on the following Boards and committees:
GHS Authority Board
United Way Board of Trustees
Upstate American Heart Association Board
Liberty Fellowship Class of 2017
LiveWell Greenville
Mill Community Ministries Board
Senior Action Board of Trustees
Generations Group Home Board of Directors
UNCF Upstate (Past Chair)
NAACP
Rev. Dogan is listed as the Best and Brightest under 35 by Greenville Business Magazine (2010 cover), and is a graduate of The Riley Institute Diversity Leadership Initiative (Spring 2011 Class).